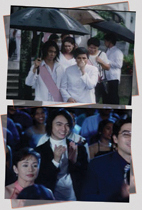 Sean has done various TVCommercials. He started out as doing "extras" in various TV Commercials such as Duty Free Philippines, Cafe Puro, Pepsi, Jollibee, Mcdonalds and a lot more!
Finally he got his big break last 2002 when he did a TV commercial of BPI with Cindy Kurleto. Sean played the role of a nerd guy.
In the same year, he did another TV Commercial of Jack and Jill "Nova" which was shot in Caylabne resort.
In the year 2003, Sean played as the double of "JASPER" in a series of Coca Cola Ad campaign.


In the year 2004, Sean had another TV commercial of Enchanted Kingdom.
At the end of the year, Sean
ventured into movies, he
appeared as one of the
chinese relatives of the
lead family in Mano Po 3.