Keeping in touch with
Family and Friends.
Introducing Globe Prepaid International
Roaming - the only International roaming
services that allows you to make and receive
calls OR send and get messages even while
you're on the move - and all while keeping
your existing Globe Handyphone number!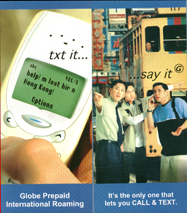 This Ad was Interntionally released with
commercial model Sean Lim and
two other models.